Frequently Asked Dental Questions – Washington, PA
Dr. Vaughan and Dr. Yokum Are Here to Answer Your Questions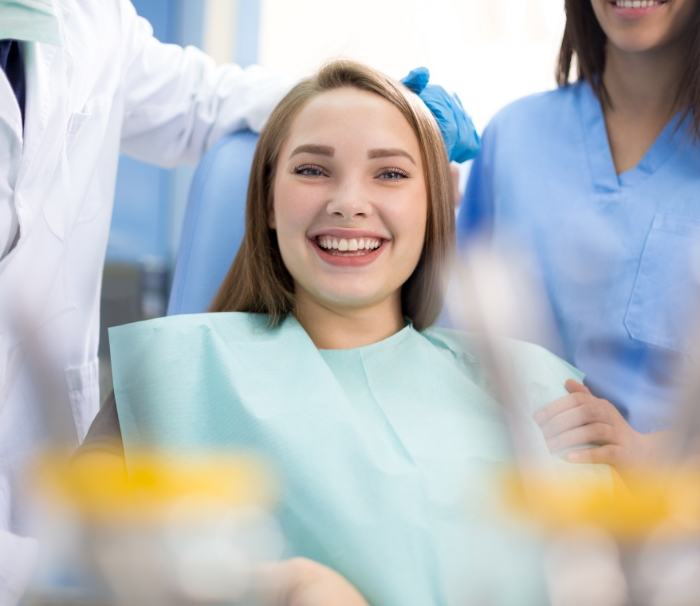 Do you have questions about your oral health? Are you interested in learning more about why dentists make certain recommendations and not others? Are you ready to find a dentist that will be a good fit for you and your family? Dr. Vaughan and Dr. Yokum understand that you may be curious about many different aspects of treatment, dentistry, and even the operations at Dental Health First. This is why we encourage you to review the frequently asked questions listed below to learn more about us. You are also welcome to call our office should you have additional questions.
Can you show me what my smile will look like ahead of time?
Yes. We take digital photos and stone models of your smile as part of the smile analysis process. Then, a diagnostic wax model of how you would like your smile to look will be created. This will allow you to give us input on your final result before any work is done. Also, images can be generated on the computer to better help you visualize the work to be done.
At what age should children first see the dentist?
Children should come in for their first "official" visit when they are around three or four, old enough to sit in the dental chair. We suggest, however, that you bring them into the office a few months earlier, maybe when an older sibling or a parent has an appointment. We will let them sit in the dental chair and get acquainted with our office in a fun, non-threatening way.
What do I do if I have a dental emergency when the office is closed?
When you call our office after hours, a message will give you information on how to contact the doctors in case of an emergency.
What different payment options do you provide?
We offer a variety of payment options including cash, check, credit cards (Visa, AMX, MC, and Discover), automatic checking account deductions, and extended payment plans with CareCredit.
How can I safely whiten my teeth?
Good question! Because of the caustic nature of whitening materials, it is a good idea to see a dentist and a licensed dental hygienist before deciding how to whiten your teeth.
I have a temporary crown in my mouth. What happens if it comes off or breaks?
In an emergency, you can place the crown back in your mouth as long as it is stable. If there is any question that it is not stable or not seated correctly, do not put it back in your mouth but instead, give us a call as soon as possible so that we can cement it back in place for you.
My gums bleed after I brush. Is this something to be concerned about?
Yes, absolutely! Bleeding gums may signal the onset of periodontal disease, which can lead to bone and tooth loss if left untreated. Please call our office and get your gums checked.
I want my front teeth to look better, but I do not want to wear braces. What would you recommend?
There are several ways we can change the look of your front teeth without the use of braces, including bonding, veneers, and bridges. All methods have advantages and disadvantages. To help you decide what is right in your particular case, please make an appointment for a smile evaluation.
What is smile analysis and smile design?
These are the processes that we use to ensure that you get a smile that is just right for you. First, we talk to you about what you like and do not like about your current smile. We take digital images of your smile so we can analyze it and create a model to show you what it will look like before and after any procedures you are receiving.