Dental Implants – Washington, PA
Making Tooth Loss a Thing of the Past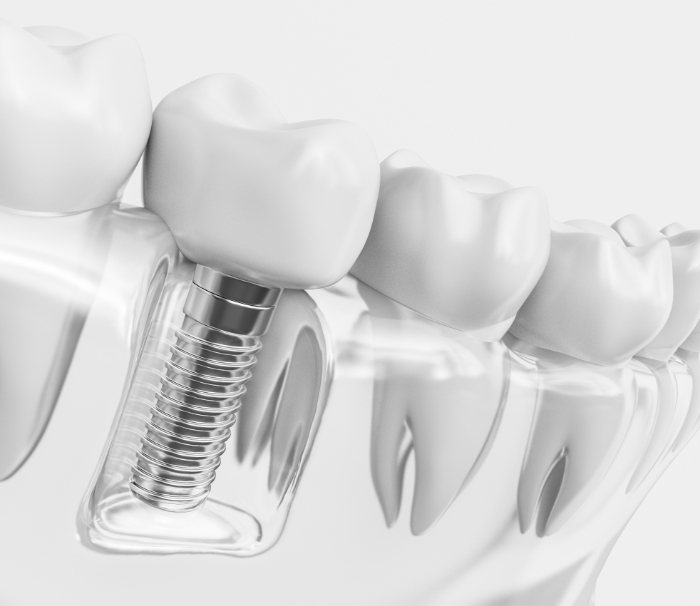 Whether you have lost one tooth or several, the consequences of this kind of oral damage can be severe. Not only does your oral health suffer, but your sense of self-confidence and overall quality of life can be diminished as well. Traditional tooth replacement solutions often provide relief and support, but many patients find them unnatural and unfulfilling.
Dr. David Vaughan and Dr. Alicia Yokum cannot turn back the clock on your original smile, but they can provide the next best solution with the revolutionary power of dental implants. This treatment option goes a step beyond the scope of dentures and bridges, as it rebuilds the entire structure of your missing teeth from the roots upward.
It is never too late for patients to regain a full set of strong, functional teeth at our practice. Our staff looks forward to building a trusting relationship with you that lasts for years to come! Contact us today to schedule your first appointment or if you have any questions.
Why Choose Dental Health First for Dental Implants?
Partner with Local Implant Specialists for Placement
Advanced Technology to Ensure Accurate Results
Natural-Looking Restorations That Blend with Existing Smiles
What are Dental Implants?
Mimicking the function of tooth roots, dental implants may consist of titanium, but they fuse with bone tissues to deliver continuous stimulation to the jawbone. As the only tooth replacement solution on the market to rebuild smiles from the roots up, they serve as the foundational support for dental crowns, bridges, and dentures. Because of their placement within the bone, they are known to last for 30 years or more, making them a preferred option for millions of tooth loss sufferers.
The 4-Step Dental Implant Process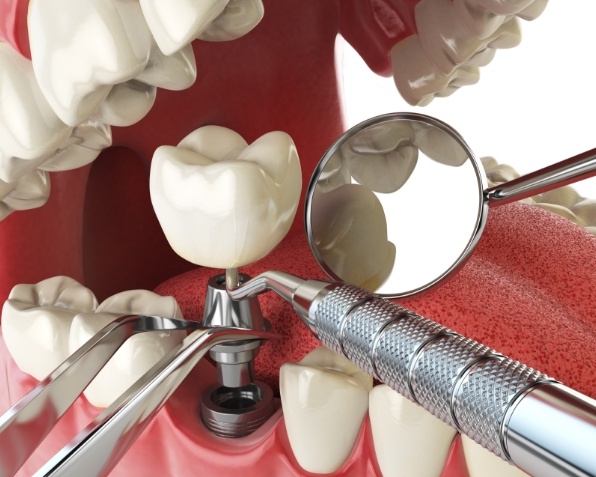 Initial Dental Implant Consultation – You will meet with a member of our team to discuss the best way to approach dental implant placement. You will either be given the green light to meet with an outside specialist for surgery or undergo preparatory treatment (i.e., gum disease treatment, bone grafting, tooth extraction, etc.) to create a better environment for your future implants.
Dental Implant Surgery – Once your mouth is ready, we will refer you to a local implant dentist who can safely put your dental implants in place.
Dental Implant Osseointegration/Abutment – After returning home to recover, which can take between three and six months, your implants will begin to fuse with the surrounding bone tissue. Once this has occurred, you'll return to have your metal abutments put into place. These help to keep your restoration attached to your implant posts.
Delivery of Dental Implant Restoration(s) – Your custom-made crown, bridge, or denture will be secured to your implants, making it possible to begin enjoying your newer, longer-lasting smile.
Benefits of Dental Implants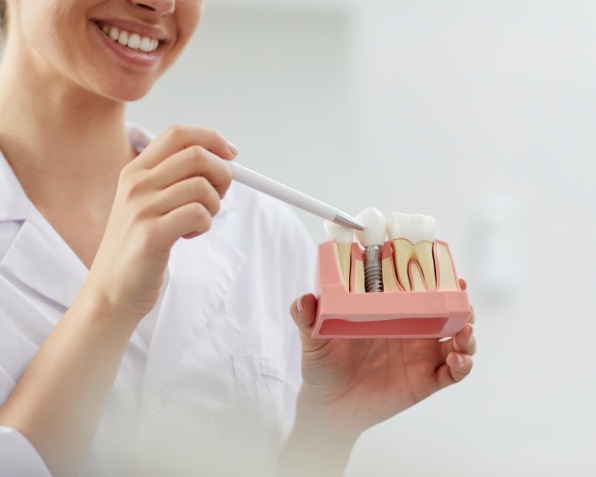 If you were to compare the benefits of dental implants to those of a dental bridge or denture, you would find there are far more advantages to choosing a more permanent form of tooth replacement, such as:
Greater stability and durability because of how the implants fuse with surrounding tissues
Ease of maintenance because dental implants can be cleaned just like regular teeth – no special instruments required
The ability to eat foods of all types with little or no restrictions
Teeth that can remain in place for 30+ years
Lowered risk of systemic issues like osteoporosis, diabetes, and heart disease (all commonly linked to tooth loss)
Who Dental Implants Can Help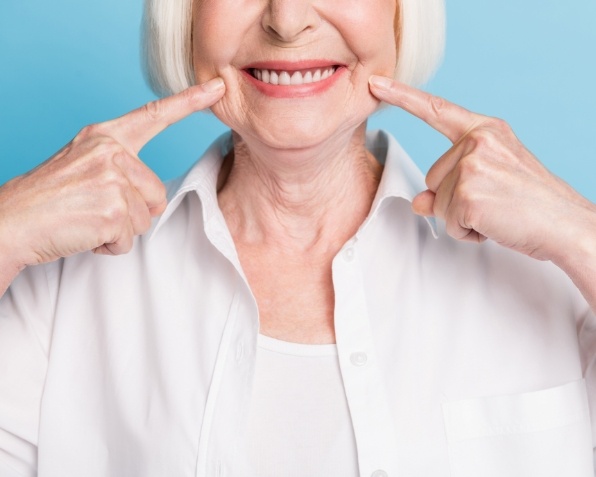 Nearly everyone can regain their best smile with dental implants, but some characteristics are important to have for the highest chances of successful treatment. They include:
Having generally good oral health, especially gum health
Having an adequate amount of remaining jawbone density to support implant placement
Being committed to lifelong professional dental maintenance and oral hygiene at home
During your initial consultation, you and your dentist will go over these details as well as discuss the versatility of dental implants and their ability to address all types of tooth loss.
Missing One Tooth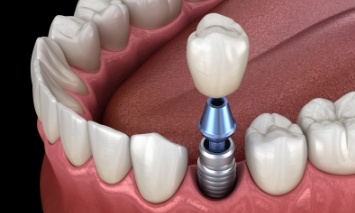 When only one tooth is missing, we will use a single dental implant, metal abutment, and custom dental crown to replace it. This will fill in the gap and allow for a more aesthetically pleasing and fully functional smile.
Missing Multiple Teeth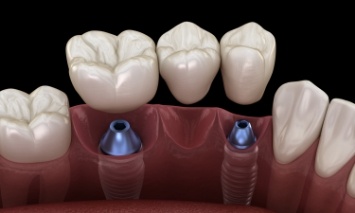 When two or more teeth are missing, there is the option of putting a dental bridge in place, or we can attach one using two dental implants. Instead of altering nearby healthy teeth, we can place two implant posts into the exterior spaces, anchoring the bridge in place.
Missing All of Your Teeth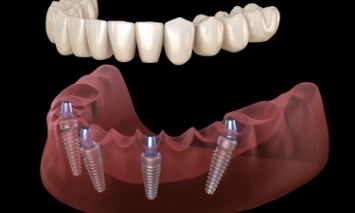 When an entire arch of teeth is missing, we can have 4-6 implant posts put into place so that a fully customized denture remains supported. By installing this type of tooth replacement, you can expect to enjoy eating, speaking, and smiling once again.
Understanding the Cost of Dental Implants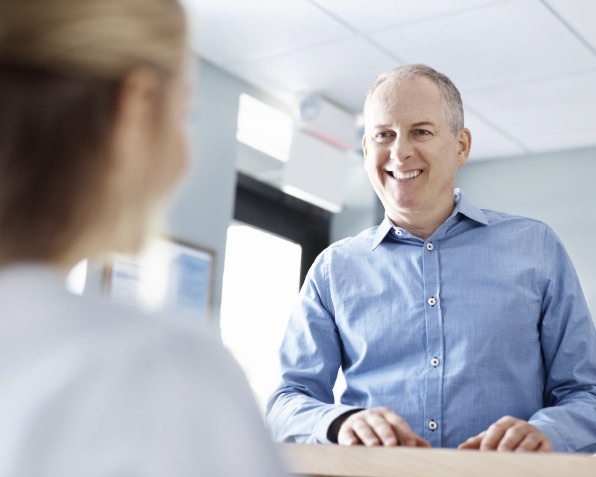 You have probably heard that dental implants are expensive, but they are an investment worth making because they can last forever. They also lower your overall dental costs by improving your oral health. We will provide you with a custom estimate during your initial consultation. The amount is determined by your individual needs. We explain each phase of your treatment and your payment options to keep your new smile within your budget.
Types of Dental Implants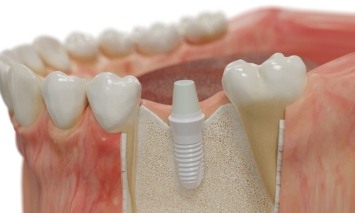 There is no set amount you can expect to pay for dental implants because the cost is determined by several factors, such as the number of teeth you are replacing. A single tooth is treated with an implant post, an abutment, and a crown. If you are replacing multiple teeth or an entire arch, you will need more implant posts and abutments. The cost of your restoration will also increase. Although you may pay more upfront than traditional treatments, dental implants should never need to be replaced.
Are Dental Implants Worth the Investment?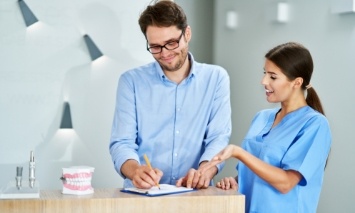 Dental implants are a cost-effective solution because they can last forever with the right aftercare, like maintaining your oral hygiene. You will never need to worry about having them replaced. Dental implants can also lower your overall dental expenses. The implant posts stimulate your jawbone to encourage new growth. This supports any remaining natural teeth to stop dental drift. As a result, the risk of tooth decay, gum disease, and tooth loss decreases to prevent the need for costly treatments down the road.
Does My Dental Insurance Cover Dental Implants?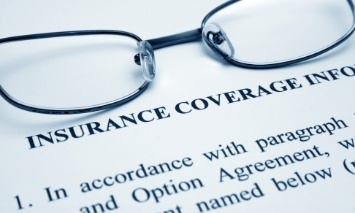 Depending on your dental insurance company, they may or may not provide coverage for this type of treatment. While many do not, that does not mean they will not cover other components of your treatment, such as your consultation, custom restoration, or preparatory procedures. Our team will work with your insurance company to ensure you get the most out of your benefits while also going over options for flexible financing to reduce your out-of-pocket expenses.
Dental Implant FAQs
Want dental implants to replace your missing teeth but still have questions about the process? Our team at Dental Health First understands, which is why we are here and ready to be of assistance. Your questions allow us to provide honest clarity about our services, especially dental implants. We know this is an investment that requires much time and money, so allow us to provide the answers you need so that you can feel 100% confident in your decision to choose dental implants.
Is the Dental Implant Process Painful?
Receiving a dental implant may sound painful because it is placed in your jawbone, but in reality, patients find that the discomfort is on par with a simple tooth extraction. Our team will make sure you are numb and relaxed before beginning.
How Do Dental Implants Compare to Dentures?
Does your denture slip and slide when you talk, chew, and laugh? Dental implants are the most secure and stable replacement because they are rooted in your jaw. Best of all, we can use dental implants to support your denture, giving you a strong and secure full smile replacement. These implants are used as anchors to give you unmatched function and comfort.
What are Dental Implants Made of?
Dental implants can be made out of various materials, but we use titanium for the highest success rate. Titanium is a biocompatible material that allows your bone to fuse with it to become a stable artificial tooth root. While it is a little more expensive, titanium is completely worth the investment because it actually helps to preserve the strength of your jawbone by stimulating it.
How Long Do Dental Implants Last?
Because they integrate into your jawbone, dental implants have the potential to last 30 years to a lifetime with proper care. That means routine visits to our office and daily brushing and flossing. You should also avoid poor lifestyle habits like routine tobacco use or heavy consumption of alcohol.